Choose the best eSIM plan for Bangkok: DTAC's eSIM plan unites the best plan with the best price and the best features in an eSIM card for your adventure in Thailand. With several data allowances and prices, the best one is DTAC's 50GB plan. For a cheap price of 10.7 usd, you'll get 10 days to use its data and with its amazing feature of 15 baht credit for calls you'll be able to contact your loved ones and share all your experiences.
Bangkok, the capital of Thailand, is one of the most exciting cities in South East Asia. An excellent destination for street food lovers, and its street life and cultural landmarks will amaze its visitors.
Any traveller visiting Bangkok must check the Grand Palace with its amazing architecture, and the Wat Pra Kaew with its emerald Buddha. Visit the reclining Buddha and the garden and stone sculptures at Wat Pho. Explore the chaos of Bangkok's Chinatown or Khao San road's nightlife. Go shopping at the Chatuchak Weekend Market or the Damnoen Saduak floating market, or embrace some spirituality by visiting any of the 400 temples in Bangkok.
Buy the best eSIM for Bangkok with DTAC, and avoid wasting money on roaming charges.
Useful tips for travellers
There are a few things you should know about your travel to Thailand. For instance, if you're travelling from June to October, you'll find yourself in the middle of the rainy season, with regular storms and heavy rains, you should be ready for closed attractions and cancelled ferries.
Every traveller to Thailand must adhere to a series of customs or traditions to avoid problems with the locals. Local etiquette indicates that you should greet locals with a dip of the head while holding your palms together.
Since 95% of the population in Thailand is Buddhist, show respect to Buddhist customs. Remember to remove your footwear in religious structures and dress modestly by covering your shoulders, upper arms, and legs. Avoid touching Buddhist statues on the head and never point your soles towards any Buddhist image.
Vegetarianism is a relative term in Thailand. When in doubt about the suitability of a dish for vegetarians in Thailand, ask if it is jay, as fish sauce, egg, and oyster sauce are commonly used in Thai cuisine.
One big culture shock for westerners is how widespread and open the sex industry is in Thailand. Be prepared to be approached by sex workers. Pay attention to the signals (Neon lights, skimpy dresses…).
Events
We have a list of Bangkok's most famous celebrations, but keep in mind that dates may change because of Thailand's Lunar calendar.
Loy Krathong
If you visit Thailand by the end of the rainy season, usually by the first full moon night at the beginning of November, you'll stumble upon one of the most photogenic festivals in Thailand. Every year thousands of handmade "boats" made of banana leaves, lotus flowers, lit candles and incense sticks, flood every body of water in Thailand, creating one of the most beautiful sights in the world.
Songkran Festival
The New Year festival in Thailand is an exciting experience. The 13th of April marks the end of the year in Thailand, and they celebrate the water festival. Water fights at this festival were originally a purification ceremony, but now they also bring in tourists with large-scale fights, music, and parties.
Candle Festival
One of the most iconic festivals in Thailand. Wax statues, artistic candles, boats decorated with flowers and parasols. It is a religious celebration that marks the start of the Lenten period. Beautiful parades and traditional dances and musicians decorate the city in preparation for the rainy season.
Thetsakan kin che or vegetarian festival
A nine day Taoist celebration where shops prepare vegan food for those who seek purification. Held around the 14th of October, the participants who seek purification must wear white clothes and keep their thoughts clean. It is a perfect occasion to taste new dishes prepared without animal products.
Best eSIM plans for Bangkok/Thailand
eSIM Plan
Data
Price
Price/GB
Validity
Features
🏆DTAC Happy Tourist
15GB
50GB
30GB
(8€)8,6$
(10€)10,7$
(15€)16,6$
0,57$/GB
0,21$/GB
0,55$/GB
8 days
10 days
15 days
Local Thai Mobile Number Unlimited data until the GB allowance (384 Kbps afterwards), 15 Baht call credit, tethering allowed (50GB card with 300 minutes for calls to India, South Korea or Vietnam)
Nomad
20GB Unl. (2GB day)
30$
7-30$
1,50$/GB
30 days
1-10 days
Truphone, data only.Unlimited (just 2GB/day)
Maya
20GB
28$
1,4$/GB
10 days(other offers depending on the validity
Data only
Holafly
Unlimited
34$
N/A
10 days
Data only, no tethering
DTAC Happy Tourist: The best eSIM for Thailand
3 local plans
DTAC offers by far the best eSIM plans you can buy for Thailand. With 3 different plans ranging from 15GB to 50GB, their total price and price per GB are unbeatable. Even other eSIM companies like Airalo offer DTAC's eSIM for Thailand, not being able to compete with this eSIM plan.
The card with the best value for Thailand is the eSIM with 50GB of data, with a price of €10 or 10.7 usd. With this eSIM, you have 10 days to use 50GB and share it with others. Don't worry about reaching the limit. You'll still be able to surf the internet since you'll still get data at 384 Kbps afterwards.
Local number and 15 baht
In addition, because DTAC is a local company, you'll receive a mobile phone number for Thailand with 15 baht call credit and free calls between DTAC numbers. As a big plus, you'll also receive 300 minutes for calls to India, South Korea and Vietnam.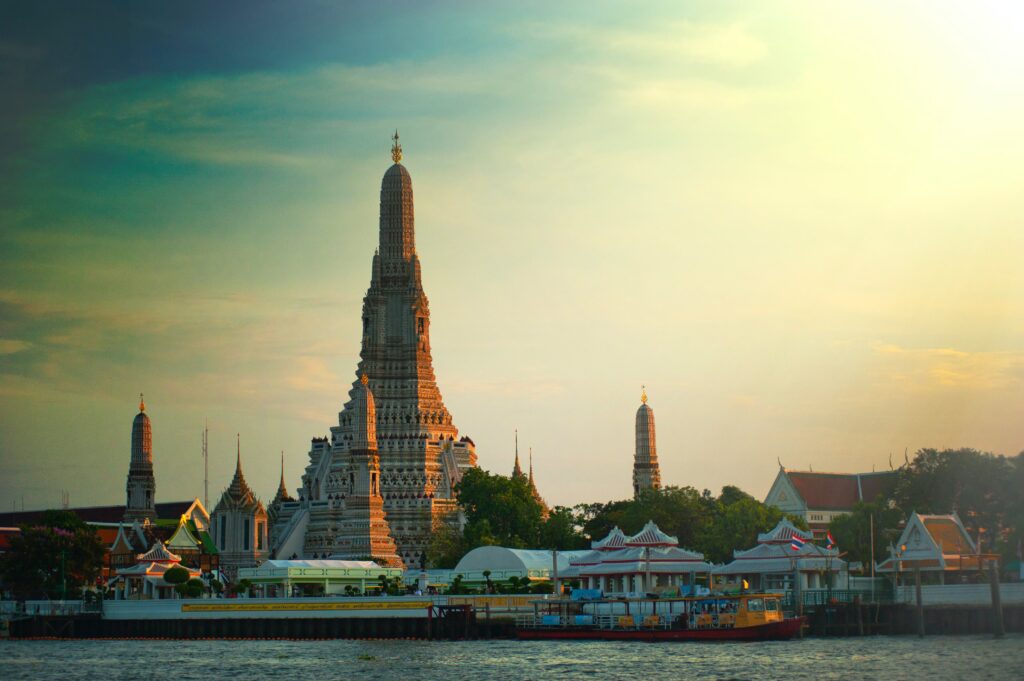 Nomad
Limited or unlimited eSIMs
Nomad offers a 20GB eSIM card and an unlimited eSIM card for Thailand. While the 20GB eSIM card's price is way above DTAC's price (30usd) for 30 days, the unlimited plans, whose price varies depending on the duration, in reality offer 2GB of data daily.
Data only
Nomad's eSIM plans are not worth their price, especially because they only offer data, so no phone number and no calls.
Maya mobile
Expensive eSIM plan
Maya mobile's eSIMs for Thailand are quite expensive. With several cards with different data and prices depending on their validity, the most interesting eSIM card you can buy to travel to Thailand from Maya for the same period as DTAC's is a plan with 20GB of data, for a price of 28 usd, but a lower validity as Nomad's eSIM plan.
Several validities
Maya offers, however, several price plans depending on the number of days, plus an unlimited data plan, all of them too expensive to be considered.
Holafly
Expensive unlimited plans
With Holafly we find their standard eSIM plans. They offer expensive unlimited plans everywhere, and Thailand isn't an exception. When compared to DTAC, Holafly offers unlimited data for 10 days with a price of 34 usd. You can buy three DTAC's cards for the same price and with some extras.
No tethering
In addition to it being a data only plan, Holafly's biggest drawback is its no tethering policy. You won't be able to share your data with any travel companion, or with any other device, so you can forget about remote working.
How to buy an eSIM for Bangkok
If you're interested in buying an eSIM for Bangkok, all you need to do is get into the eSIM carrier's website and select Thailand as your destination. You'll then be redirected to a selection of eSIMs available and after purchasing it, you'll get an email with a QR code and instructions on how to activate your eSIM.
You can do this as soon as you book your flight. The convenience of purchasing a travel eSIM is one of its major appeals. You can forget about searching for a store once you've landed in Bangkok. Carry your eSIM with you when you travel to Thailand.
Prepaid SIM at the airport or travel eSIM: What should I buy?
When travelling abroad, you have three options for procuring your data availability to surf the internet. You can either pay excessive roaming charges with your home carrier, activate a travel eSIM upon arrival, or get a local SIM card at the airport.
Trying to find your prepaid SIM card at a foreign airport can become quite stressful, especially if you don't speak the language. You might even feel unsure about what you've purchased or if it is from a reliable company.
With an eSIM, if you can use it on your mobile phone, you avoid all this hassle. That's the reason why it is the best option to travel abroad: its simplicity.
How can I know if my device supports eSIMs?
ESIM technology isn't yet an industry standard, that's why only some devices can support an eSIM. The best way to know if you'll be able to get an eSIM for your mobile phone is to check with the eSIM carrier. Most of them offer a list of compatible devices on their website, so you can check if you'll be able to use their eSIM on your phone. This is even more important considering the fact that some eSIMs can't be installed on every eSIM compatible device.
Get the best eSIM for Bangkok
FAQ about Bangkok eSIM
What's the best eSIM carrier for Bangkok?
DTAC's eSIM is the best eSIM carrier for Bangkok. Any of DTAC's different plans for Thailand are better than those of their competitors. With 15GB, 30GB and 50GB of data for incredible prices ranging from 8 usd to 15 usd, their features like the mobile phone number and their credit sets them as the best eSIM offers. Among them, the best price per GB and best features come with the 50GB for 10 days eSIM card.
When should I activate my eSIM?
The best moment to activate an eSIM is as soon as you land in the country of destination. This is the only way to ensure a smooth transition without any issues. You can buy an eSIM before departure, and have it ready to activate as soon as you land at Bangkok's airport.
How many GB of data do I need for travelling?
If you use your mobile data sparingly and connect to Wi-Fi frequently to surf the internet, you'll need at least 5GB for 10 days. However, if you share your connection or use your phone to connect your laptop, your data usage will increase significantly. With DTAC's 50GB data, you have the freedom to use it however you want and stay connected at least with 384Kbps speed once you've consumed your data allowance.
What are the downsides of eSIMs?
Since eSIMs are a software-based solution installed on your mobile phone, if you need to switch devices while using an eSIM, you'll need to contact the eSIM carrier, since you can't extract the eSIM like you do with plastic SIM cards. However, the process takes a few minutes, so it really isn't a big deal.