The best eSIM for Malaysia is easily DTAC Go Inter – 10 Days. It includes 6GB of data to be used during 10 days for just $15 USD. The reason why it's the best plan for Malaysia isn't just its great price/GB, the real reason is the fact that this plan has coverage in many countries in Asia, Australia and even the USA!
This plan is the best for those who are on connecting flights with long layovers in places such as Qatar. With a regional plan like this one, you can have a mobile network connection on your device during your layover, so you don't have to rely on a public Wi-Fi network's speed to be able to view important flight information or update your loved ones on where you are. On top of that, you don't need to go to a SIM card store in a foreign country.
Malaysia is truly an amazing travel destination for everyone. If you love modern urban architecture, be sure to visit the majestic Petronas Towers in Kuala Lumpur. If you love nature, visit the Gunung Mulu National Park. If you're a history/culture buff, visit the Batu Caves or Malacca City, the latter being a world heritage site that can't be missed. Finally, Malaysia is a melting pot of cultures, meaning that there is food to accommodate all travel types.
What is an eSIM, and why should I get one?
eSIM stands for embedded SIM, given that eSIM consists of a tiny chip that is "embedded" into your phone or other device (like a tablet or smart watch) that basically acts like the skeleton of a SIM card. All you then have to do to connect to the internet is download a plan and activate it, no SIM card swapping required!
eSIMs are becoming increasingly popular, and with good reason. You can change data plans without needing to fiddle with a plastic SIM card, meaning that eSIMs are much more convenient and flexible than a regular SIM card. Also, you don't need to ship a plastic card, meaning that eSIM is actually more sustainable than a traditional SIM card.
Top 5 eSIMs for Malaysia 2023:
Below is a table ranking the top 5 best eSIMs for Malaysia based on data from 2023:
eSIM
Price
Data
Price/GB
Duration
Countries covered/Extra Features
DTAC Go Inter – 10 days
$15 USD
6GB
$2.50 USD
10 Days
Coverage in many Asian Countries, Israel, Qatar, Australia, USA
Tethering
Provided by an established mobile carrier
Nomad
$4 USD – $90 USD
1GB – 50GB
$1.80 USD – $4.00 USD
7 Days, 15 Days, or 30 Days
Malaysia only coverage
Tethering unclear
Airalo
$4.50 USD – $40 USD
1GB – 20GB
$2.00 USD – $4.50 USD
7 Days, 15 Days, or 30 Days
Malaysia only coverage
Tethering unclear
Holafly
$19 USD – $99 USD
Unlimited
N/A
5 Days – 90 Days
Malaysia only coverage
No tethering
eSIM2Go
€5.99 – €189.99 ($6.61 USD – $209.80 USD)
100MB – 40GB
€4.12 – €69.90 ($4.55 USD – $77.19)
30 Days – 365 Days
Malaysia only coverage
Tethering
DTAC Go Inter – 10 days
Wide Coverage and great value for money
As mentioned beforehand, DTAC Go Inter – 10 days is easily the best eSIM data plan for Malaysia, many countries in Asia, Israel, Qatar and the USA. It strikes the perfect balance between price/GB and countries covered. That way, you don't need to pay too much to be able to connect to a mobile network on your phone or other device during your layover, whether it be in roaming charges or more expensive regional plans.
Provided by an established mobile carrier
DTAC is one of the main carriers in Thailand. This means that instead of an eSIM provider cutting a deal with the carrier that results in a more expensive eSIM, you get the eSIM directly from the source of the mobile network. As a result, you get to pay less for more features on your eSIM as well as having support that is more specialized in that particular product.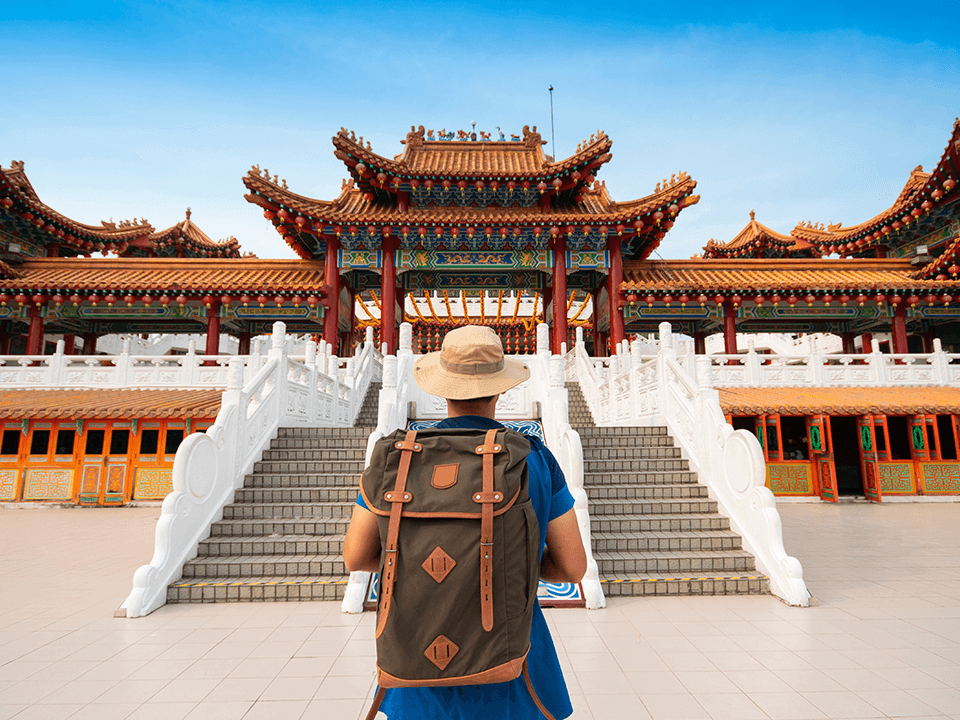 Nomad
Good value, but Malaysia only
Nomad's eSIM plans have good value for money and a solid range of options for those who may need more or less data. However, they only offer coverage in Malaysia. This means that if you are coming there on a connecting flight and have a layover somewhere in Asia, you won't be able to connect to mobile data. You would effectively be depending on the speed and security of your layover location's public Wi-Fi networks.
Tethering Unclear
Nomad does not make it clear on their website if their data plans support tethering or not. If they do, that is fantastic. If they do not, it would mean that all of the data that you buy would only be consumable on one device. Consequently, if your travel companion does not have a local SIM card or eSIM you would not be able to share data with them. This can be a huge drawback, especially for people who buy large plans with the expectation of being able to use these large data plans across several devices.
Airalo
Airalo vs Nomad: Similarities
Airalo and Nomad have fairly similar plans and pricing. Both Airalo and Nomad have several data plans that cover only Malaysia that cover a range of prices and quantities of data. Both of them also do not make it clear whether they allow tethering.
Airalo vs Nomad: Differences
Airalo has a much narrower variety of plans than Nomad, given that the largest data plan that Airalo has for Malaysia comes with 20GB as opposed to Nomad's 50GB. It makes sense for Airalo to stick to smaller plans, considering that 20GB is much more than the average tourist will need. However, the fact that Airalo is more expensive than Nomad as well as having less options is what puts Airalo at 3rd place instead of 2nd.
Holafly
Unlimited, but expensive
Holafly is the only provider on this list to offer unlimited data. Nevertheless, the fact that Holafly is so expensive is what puts it so low on the list. The smallest plan that Holafly offers costs $19, which is more than some people want to pay for just 5 days of connection to a mobile network. Similarly to Airalo and Nomad, Holafly only covers Malaysia, meaning that you cannot use that unlimited data during a layover or if you are passing through Malaysia.
No Tethering
Apart from the price tag, the biggest drawback that Holafly has is its lack of tethering. The fact that you cannot create a mobile hotspot defeats the purpose that having such a large unlimited plan would have, given that if you are buying an unlimited plan, you would want to share it. This means that the unlimited data that Holafly provides can only be used on one device, making it harder to get the full value of the money you would pay if you were to get a Holafly eSIM.
eSIM2Go
So many options, yet so expensive
eSIM2Go provides an extremely extensive list of data plans, more than all of the other providers on this list combined. However, all of them come with prices/GB much higher than DTAC, Nomad and Airalo. The plans shown, as with providers like Holafly and Airalo, provide coverage only in Malaysia.
Duplicate listings
Some of the plans listed seem to have the same amount of data, the same price and the same duration, yet have two different listings. It is not made clear what the difference between the duplicate listings are, which makes eSIM2Go as a service much harder to recommend.
eSIM Compatible Devices
While eSIM is being adopted at a faster rate by the general market, as it stands at the time of writing, not all devices are compatible with eSIM. Companies like Apple, Samsung and Google are spearheading the adoption of eSIM in the mainstream market. On top of that, not all eSIM providers have optimized their eSIMs for all possible phones, so it is best to check your provider's compatible devices list to check if your phone or other device works with the eSIM you want. Also check if your device supports Dual SIM so that you can use your regular SIM card as well as your eSIM.
In terms of what devices are usually compatible, all iPhone devices newer than the iPhone XS, iPhone XS Max and iPhone XR are compatible with eSIM, along with other portable Apple products such as their iPad and Apple Watch lines from after that time. Similarly, all of the Samsung flagship devices (Samsung Galaxy S and Samsung Galaxy Z) newer than the Samsung Galaxy S20 and the Samsung Galaxy Fold are usually compatible with eSIM, as with the Google Pixel series after the Google Pixel 3.
Coverage in Malaysia
Malaysia has 6 main mobile carriers: Celcom, DiGi, Maxis, U Mobile, Unifi and Yes. Your coverage in Malaysia will depend on what network you are connected to as well as your location in Malaysia.
Below is a map of Celcom's coverage. If you want to see other carriers' coverage, click here.
Get the best eSIM for Malaysia
Frequently Asked Questions:
Is eSIM available in Malaysia?
eSIM is definitely available in Malaysia. DTAC Thailand offers the best plan for travelers on layovers or people visiting multiple countries in Asia. If you want to get the best eSIM to travel to Malaysia with, click here.
How can I buy eSIM online in Malaysia?
All you need to do is click here and follow the steps prompted. Then you can get the best eSIM for Malaysia, as well as Asia, Australia and the USA and activate it on your phone.
Can eSIM be prepaid?
Absolutely! While most carriers in Malaysia provide postpaid plans for locals, many providers provide prepaid eSIMs for travelers looking for a temporary mobile network connection for their phone. Among these is DTAC, offering the best plan to travel to Malaysia (as well as the rest of Asia) with. To get it, just click here!