Get ready! We offer you the best eSIM for Turkey. With Go Inter by DTAC you'll get 6GB of data for an excellent price of 29 usd with a validity of 15 days. Its greatest asset, however, is its worldwide coverage. With this travel eSIM, you'll be able to connect almost anywhere in the world (if eSIMs are available). It is a great deal.
Turkey, that mystical land where Europe and Asia meet, has a millennia old history on display for its visitors. Once the center of the Eastern Roman Empire, and later the Ottoman Empire, it retains loads of vestiges of those great civilizations, but in cities like Ankara, Izmir, Antalya or the eternal Constantinople (now Istanbul) you will also find a more modern side of this great and diverse country.
Indulge yourself to some Turkish delights, taste a real Turkish kebab, experience the mesmerizing Hagia Sophia, visit the ruins of Ephesus, take a hot-air balloon ride in Cappadocia, take a tour around the sumptuous Topkapi palace, take a bath in the travertine pools of Pamukkale, or travel back in time to the remains of Pergamum, Troy, Göbeklitepe … open yourself for the great experiences Turkey can offer, you won't be disappointed.
Just remember, before leaving for Turkey, get yourself the best travel eSIM in 2023. Buy DTAC's Go Inter card and let it take care of your data needs.
4 best travel eSIMs for Turkey
We bring you our selection of the 4 best travel eSIMs for 15 days in Turkey this 2023.
| | | | | | |
| --- | --- | --- | --- | --- | --- |
| eSIM | Data | Price | Price/GB | Validity | Coverage |
| 🏆 Go Inter by Dtac | 6GB | 29 usd | 4,83 $/GB | 15 days | Worldwide |
| Airalo Merhaba | 2GB | 6.50 usd | 4.75 $/GB | 15 days | Local (Turkey) |
| Mogo | 1GB | 6 usd | 6 $/GB | 15 days | Local (Turkey) |
| Holafly | Unlimited | 47 usd | N/A | 15 days | Local (Turkey), no tethering |
*Data collected in 2023
Go Inter by DTAC: The greatest travel eSIM
The offer
Go Inter by DTAC is our top choice for the best eSIM plan for Turkey. For a great price of 29 usd, you'll receive 6GB of data with a validity of 15 days. It is a perfect eSIM to travel with, because you won't have to worry about roaming costs during your trip to Turkey. This eSIM offers 4G connection with Turkcell/Avea Iletisim Hizmetleri (ARIA), tethering and worldwide coverage.
Global coverage
As stated above, Go Inter by DTAC offers worldwide/global coverage. This means that no matter where you are, you'll be able to use the data on your mobile phone. Even if you're spending a couple of days outside of Turkey, you won't have to worry about roaming. Global coverage means peace of mind.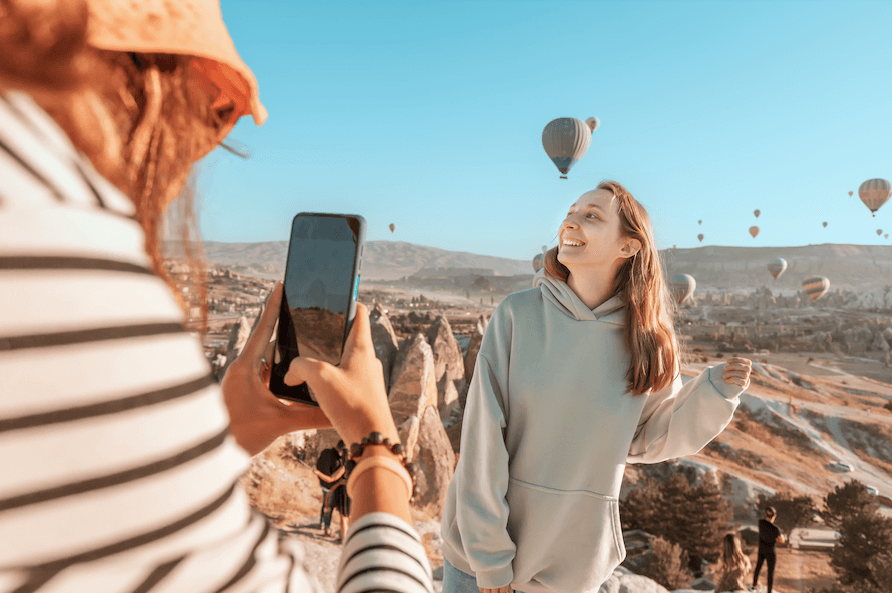 Airalo Merhaba
Small card
Airalo offers among its Merhaba plans, a card with only 2GB of data for a period of 15 days. It is too little data for your travel plans, so you'll end up needing to top up your card. With a price of 6.50 usd for this card, the price per GB is similar to DTAC's one but with one major disadvantage: its coverage.
Local coverage
Airalo's Merhaba cards can only be used in Turkey. This means that if you want to visit another country, or if by any chance you get stuck in another airport while you're flying to Turkey, you'll need to use your local carrier roaming, or, I don't know if this is better, use a local Wi-Fi network. For almost the same price, you'll get worldwide coverage with Go Inter by DTAC.
Mogo
Small data package
Mogo offers just 1GB of data to use in Turkey for 15 days. Just 1GB. What's your usual data usage at home? Do you think this card offers enough data?
Besides, unlike Go Inter by DTAC, it only offers local coverage, so, in our opinion, Mogo's plan isn't worth it.
Expensive price per GB
With a price of 6 usd, its price per GB is overly expensive (6 $/GB), so Mogo's eSIM plan is way worse than DTAC's card.
Holafly
Expensive card
Holafly offers a card with unlimited data for an extremely expensive price of 47 usd. The sound of unlimited data might be quite alluring, but this eSIM has a big issue: It doesn't allow tethering.
You can't use Holafly's eSIM card to share its unlimited data with anyone on your trip. You won't even be able to use it to connect your laptop or your tablet if you want to work during your holidays. It's no hotspot/tethering policy added to its incredibly expensive price makes it the worst eSIM plan of our list.
Why choose a global eSIM?
If you're traveling to Turkey, you might think that your best option would be a local eSIM, covering just Turkey. In most cases, the price for a global eSIM is way higher than a local eSIM plan, but this is not the case with Go Inter by DTAC.
A global eSIM comes in handy when your trip to Turkey includes a visit to any of the neighboring countries, or, as it sometimes happens, if your flight is doing some stopovers and you have to spend a night in another city. In these cases, you can take a leap of faith and trust the local airport Wi-FI or prepare your wallet to pay for the expensive rate of roaming costs.
You'll be more prepared with quite a budget friendly option with Go Inter by DTAC since it offers worldwide coverage in most countries that are eSIM compatible.
How to buy an eSIM for Turkey
You can buy an eSIM for Turkey, just like any other eSIM, completely online. Just go to the website of the eSIM you prefer, and after payment you'll get an email with a QR code and instructions on how to activate it. Simple and convenient, right?
You can get your eSIM ready in a few clicks and you'll avoid going to a local shop, dealing with a vendor and trying to negotiate in the local language.
Turkey's mobile market analyzed
Three companies: Turkcell, Türk Telekom and Vodafone manage Turkey's mobile network market. According to Opensignal's analysis, Turkcell offers the best 4G coverage experience to its clients, as well as the best download and upload speeds.
With a territory of over 750,000 km2, you won't have any data issues if you're staying in any of the main Turkish cities, but if you're going to the countryside to visit Turkey's many natural wonders or ancient ruins, you might need to check your cell reception on those areas. Here you can get an approximate idea of the network coverage in Turkey with each carrier. Check it out to better plan your holiday trip avoiding extra roaming costs.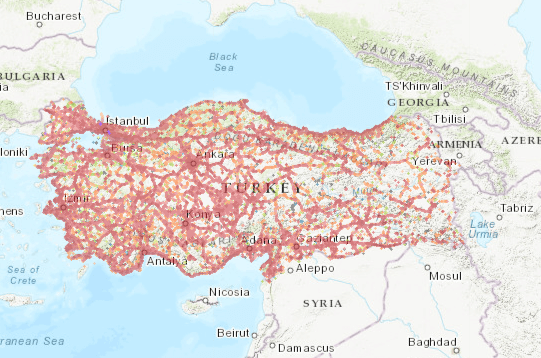 eSIM compatibility
The main problem you might find when buying an eSIM is that not a lot of devices offer eSIM compatibility, and you can't be sure that you'll be able to use eSIMs on your device, even if it supports eSIMs, since some eSIMs can only be installed on certain devices. The best way to avoid all the chaos involving eSIM compatibility is to check the website of the eSIM carrier you're about to buy for its compatibility list. If your device doesn't show up there, you'll be better getting another eSIM that offers compatibility with your mobile phone.
Broadly speaking, you'll be safe buying almost any eSIM if you have an iPhone 11 (or newer), a Samsung Galaxy S20 (or newer) or a Google Pixel 2XL, 3XL, 4 or newer models. Other phone manufacturers offer eSIM compatibility on some of their devices (Huaweii, Oppo, Rakuten, Xiaomi), but you'll be safer checking the eSIM carriers list.
Get the eSIM with Best Price/GB in Turkey
FAQ about Turkey eSIM
Can I use an eSIM in Turkey?
Yes, you can use an eSIM in Turkey. With a great price of 29 usd and, what's really important, global coverage, you can get Go Inter by DTAC with 6GB of data for a validity of 15 days. With this eSIM card you'll be covered no matter what your plans are, not only within Turkey, but anywhere in the world.
Are eSIMs better than local SIM cards?
Travel eSIMs are specifically designed to fulfill the needs of travelers. This means that their features are perfect for someone visiting a country for a few days. With local SIM cards, you'll need to negotiate with a vendor and get some kind of contract with a local carrier to be able to use their SIM. Just like with your home carrier. Local SIM cards might offer better prices for the country of destination, but it can become quite a hassle if you're not staying for long.
Can I keep my WhatsApp number when using an eSIM?
Yes, since you won't need to switch your home carrier SIM card for the travel eSIM, and since you'll be able to use both of them at the same time, you will keep your WhatsApp profile active, and, at the same time, any other accounts you might have linked to your phone number.
Can I use my SIM card and an eSIM at the same time?
Yes. It is one of the great advantages of eSIMs. You can install an eSIM profile on your phone and use it at the same time as your home carrier's SIM card. With a travel eSIM, it is quite convenient, since you'll be able to use your SIM card for phone calls and SMS, while the eSIM manages your internet connection abroad.
When should I activate my travel eSIM?
The best moment to activate an eSIM is after landing on the country of operation. This way, you'll avoid possible issues that may arise from trying to activate it outside of its coverage. Buying an eSIM, however, can be done from anywhere in the world as long as you have internet.
How can I move my eSIM to another device?
Unlike physical SIM cards, you can't extract an eSIM from a mobile phone. If you need to move it to a new one, you'll need to contract the eSIM carrier so they can switch the profile from your old device to a new one. It usually isn't a problem, and you'll be able to use the eSIM card again in a matter of minutes.