The best eSIM for Switzerland isn't only for Switzerland; it's the best global eSIM in the market. Want to know why? Go Inter by DTAC offers 6GB of data for a great price of 29 usd, but it also offers worldwide coverage. You won't need to worry about roaming fees while you're traveling to Switzerland because no matter if you're stuck on another country due to delays, or simply because you want to spend a couple of days in a different destination, you'll be covered by this eSIM. This is especially interesting for Switzerland given its location and how easy it is to travel to countries like Italy, Germany, Austria or France from any of its cities.
Switzerland is famous for three things: mountains, clocks and food. Because of its location, is a fantastic place for winter sports, and in summer, hiking around the Alps is the perfect activity for nature lovers. Its cuckoo clocks are the typical souvenir of tourist shops, and everyone must go back home with some Swiss cheese and an assortment of Swiss chocolates.
But Switzerland is also quite expensive, in fact it is the third country with the highest cost of living only surpassed by Monaco and the Cayman Islands, so if there's any way to avoid spending too much on roaming fees, that would be purchasing an eSIM for Switzerland. Check our list with the best prepaid eSIMs for Switzerland in 2023.
The 5 best prepaid eSIMs for Switzerland in 2023
| | | | | |
| --- | --- | --- | --- | --- |
| Carrier | Data | Price | Coverage | Validity/Extras |
| 🏆 Go Inter by DTAC | 6GB | 29 usd | Worldwide | 15 days |
| Airhub | 5GB | 18 usd | Switzerland only | 30 days |
| Airalo-Pilatus | 2GB | 8 usd | Switzerland only | 15 days |
| Bnesim | 20GB | 8 usd | Switzerland only | No expiration |
| Holafly | Unlimited | 47 usd | Switzerland only | 15 days, No tethering |
Go Inter by DTAC
Great offer
Go Inter by DTAC is our top choice for the best prepaid eSIM for Switzerland. With 6GB of data for an incredible price of 29 usd you'll get 15 days of validity connecting to Sunrise, Salt Mobile or Swisscom, which means no connectivity issues while in the Swiss territory.
Worldwide coverage
What makes this plan the best one of our selection is its worldwide coverage. With this plan, you'll have service anywhere in the world (only countries where eSIMs are available). This means that you'll be able to travel to any country you want, not only in Europe, but anywhere in the world. This can be quite convenient if your flight is delayed, or if you lose a connecting flight, since you won't need to use unsafe local Wi-Fi hotspots or waste money on roaming with your home carrier's fees.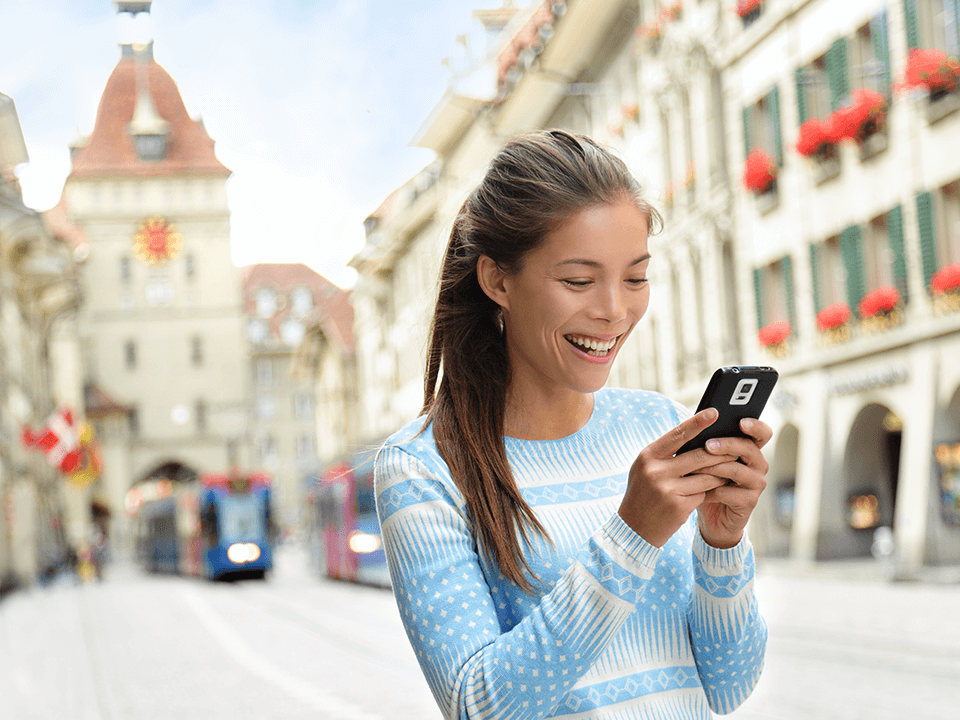 Airhub
Cheap price
Airhub has a great plan for Switzerland. With 5GB for 18 usd, it offers a card with a validity of 30 days. This plan has a great price per GB of 3.6 usd, however, with such a long validity you'll probably end up topping it up again if you're staying for those 30 days.
Local coverage
However, the main reason it is not our top choice is that it offers coverage only in Switzerland, and, as we will see in the next section, having only local coverage in Switzerland is a big drawback for any card. For just a few bucks more (11 usd) you'll get not only 1GB more, but worldwide coverage with Go Inter by DTAC.
Airalo Pilatus
Small data package
Airalo offers a small data plan with the same validity as Go Inter by DTAC. For 15 days you'll get 2GB of data for a great price of 8 usd. It is quite a small amount of GB, so you'll need to watch carefully your data usage.
Local eSIM
To receive the same amount of data as DTAC's Go Inter, you'll have to buy 3 of Airalo's cards, which will end up costing 24 usd. The issue is that Airalo's card is a local eSIM, so, for just 5 usd more, you'll be able to use DTAC's eSIM anywhere in the world. Is a small price to pay to forget about roaming costs.
Bnesim
Large data package
Bnesim offers a card with a large data package of 20 GB for a shocking (and not in a good way) price of 88 usd. It seems like it is a lot to spend directly in an eSIM, however Bnesim's One Time cards offer a great feature. They don't expire. This means that you'll be able to use the data you've bought until it runs out. It doesn't matter if you leave Switzerland and come back in the near future, you'll still have the remaining data available.
Only Switzerland
Bnesim's prepaid cards (One Time) have a major issue when dealing with a trip to Switzerland: their limited coverage. While Go Inter by DTAC offers global coverage, with Bnesim's card you won't be able to use the data if you leave to visit any of Switzerland's neighbors, and of course, you can forget about using their eSIM if your flight gets delayed, or if you get stuck in another country's airport for a night.
Holafly
Expensive unlimited data
Holafly has an expensive card, with unlimited data, for the same amount of days and only for Switzerland: 47 usd. With it you won't need to worry about data allowances, but it is only a good plan if you're not traveling on a budget, and in Switzerland, being as expensive as it is, you might not want to spend more than what you need, so you'd better make sure you'll need unlimited data, ONLY in Switzerland.
No tethering
However, the main problem with Holafly's eSIMs is that they don't allow tethering. This means that you won't be able to share your data with any travel partner or any other device that you bring with you on your trip. It doesn't sound that appealing now, does it?
Global coverage advantages for traveling to Switzerland
Now let's see the main advantage of Go Inter by DTAC if you're traveling to Switzerland: Global coverage. Why is it so important?
Switzerland is an expensive country. I'm probably not discovering anything new, but did you know that a lot of people working in Switzerland live in a neighboring country?
As an example, to cross the border between Switzerland and France, you'll only need about 20 minutes to go from Annemasse to Geneva, so it is quite convenient to move between the two countries to save about 62% in living expenses. There are about 100 trains a day from Geneve to Annemasse, and the average trip only takes 22 minutes.
The same happens with Switzerland's other neighboring countries: Liechtenstein, or Austria and Germany, with which Switzerland shares a beautiful lake (Lake Constance), and its southern neighbor Italy. (Lugano is an hour away from Milan).
With a global eSIM you'll always be able to use the data on your phone no matter how many countries you're visiting, even if you're doing some stopovers or staying a couple of days in a different country , either in Europe, or anywhere in the world.
Travel eSIM: how can I buy a prepaid card?
To buy an eSIM for Switzerland in 2023, you'll just have to connect to the eSIM carrier's website. After you've bought it, you'll receive a QR code and a guide on how to activate it in your device. You'll just need to scan this QR code and follow the steps. You'll then have the eSIM ready for activation.
The greatest thing about eSIMs is that they don't require going physically to a vendor. Since you've done it via the internet, you can be buying it from your own couch. Forget about the language barrier or dealing with a contract abroad. You'll have your new eSIM ready for use in a matter of minutes.
Can I use an eSIM on my device?
Before buying an eSIM plan, you should always make sure that your mobile phone supports eSIMs. Since eSIMs are somewhat of a new technology, only certain devices can use it. Thankfully, most eSIM carriers provide a compatibility list on their websites. This is especially important due to the fact that some eSIMs can only provide service in certain devices. This means that even if your phone is eSIM compatible, you might not be able to install an eSIM on your device.
Mostly Apple mobile phone since 2019 (iPhone 11), Samsung mobile phones since 202 (Galaxy S20), Google phones like the Pixel 4 or even the 2XL or the 3XL (and newer models) support eSIMs. Other brands like Huaweii, Oppo or Xiaomi also support eSIMs in some of their models, but as we said before, you should check the eSIM compatibility list of the carrier you're about to buy.
If you're still not sure if you can use an eSIM, you can also check with your home carrier or your device manufacturer.
Overview of the Swiss mobile network market
The quality of a travel eSIM can be measured by the amount of roaming partners it has in the country where it provides service, mainly because its objective is to keep the customer connected while abroad. That's why the more roaming partners, the better.
Switzerland's mobile network market is managed by three carriers: Salt, Sunrise and Swisscom. From these three, Swisscom is the overall better network, providing the best download, upload and availability experiences to its customers. The good thing about DTAC's Go Inter card is that it has all three of the Swiss carriers as network partners, so you'll always get the best coverage (and connection) wherever you are. If you still feel the need to check the network coverage on a specific area of the country, you can do it in this website.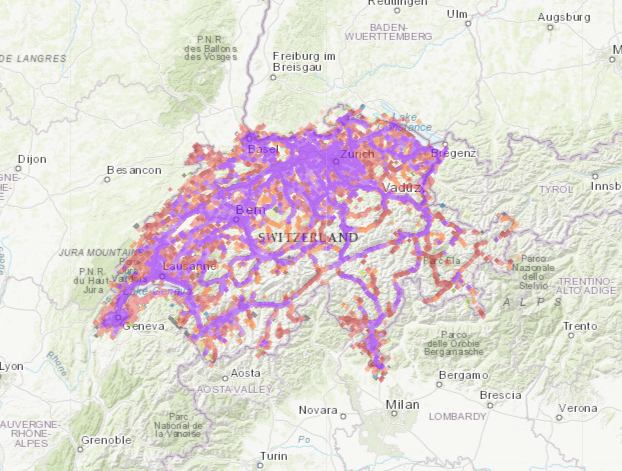 Get the eSIM with Best Price/GB in Switzerland
FAQ about Switzerland eSIM
Which eSIM is best for a traveler in Switzerland?
According to our analysis, Go Inter by DTAC is the best eSIM plan you can buy to travel to Switzerland, Europe, or anywhere in the world. With 6GB for an incredible price of 29 usd you'll be able to use its data for 15 days, and with its worldwide coverage, you'll avoid roaming costs if you decide to visit any of Switzerland's neighboring countries, or any other destinations you might end up visiting during your holidays.
When should I activate my travel eSIM?
We encourage that you activate your eSIM as soon as you land in a country where it offers coverage. It is the best way to avoid activation issues. Buying an eSIM, however, can be done from anywhere in the world as long as you have Internet access.
Do I have to activate data roaming on my device?
Yes. You have to enable data roaming in your phone settings, at least in your travel eSIM profile. You can turn off the data roaming option on your home carrier's SIM and activate it on the eSIM so you can enjoy the allowance of your plan without incurring in any extra expenses by your home carrier.
Can I use both my eSIM and my SIM card at the same time?
Yes, you can use both a SIM card and an eSIM at the same time. It is, in fact, the major advantage of eSIMs, since they allow you to use one profile for phone calls and SMS and another for data. It is a great feature to travel abroad avoiding roaming expenses.