We have found the best eSIM for South Africa. With Go Inter by DTAC you'll get 6GB of data for an excellent price of 29 usd and a validity of 15 days. With this eSIM you'll get worldwide coverage, so you'll be able to use this card anywhere you're traveling to, no matter the unforeseen stops you may end up doing during your trip. It's a great card to buy if you're traveling to South Africa and don't want to waste your money on roaming costs.
South Africa is sometimes known as the world in one country. Home of over 21 National Parks, 11 official languages and over 100.000 animals, plants and fungi. South Africa is a country of diversity.
Cape Town is the first place you need to visit to get the first contact with the South African mixture of cultures, traditions, city life and nature.
Make sure to check out Victoria and Alfred Waterfront, Table Mountain, Signal Hill and Lion's Head, Robben Island, Bo-Kaap and Kirstenbosch while in Cape Town.
You can also drive through the 200 km stretch of the Garden Route, or tour the Kruger National Park and the Blyde River Canyon.
Remember to take some time to enjoy the Hermanus bay and its coastal paths where you'll be able to see Dolphins and Whales, or go visit the wine regions of Stellenbosch and Franschhoek, and of course, dive into South Africa's nature, going on a Safari trip in any of the national parks like the Addo Elephant National Park, the iSimangaliso Wetland Park, the Pilanesberg National Park, the Hluhluwe-iMfolozi Park, or the West Coast National Park.
If, at any point of your trip, you feel the need to go back to the civilization, Johannesburg and Durban are great cities for travelers.
If there's one thing you can't do in South Africa, it is wasting money on roaming expenses, especially when travel eSIMs exist. Check our list of the top travel cards for South Africa in 2023 and choose the one that best suits your needs.
What's an eSIM, and how can I buy one for South Africa?
An eSIM is an electronic SIM card that is "embedded" in your device. Instead of a removable physical SIM card, an eSIM consists of a software-based SIM installed on an integrated chip on your mobile phone. With an eSIM, you can download a carrier profile to receive the same features that a physical SIM provides.
It is basically a SIM card that you can download from the internet.
Getting an eSIM is as simple as choosing one from the internet and after buying it, scanning the QR code you'll receive in your email and following the activation instructions. The entire process can be done from anywhere in the world (as long as you have internet access) and only takes a few minutes.
Top 5 travel eSIM cards for South Africa in 2023
| | | | | | |
| --- | --- | --- | --- | --- | --- |
| eSIM | Data | Price | Price/GB | Validity | Coverage |
| 🏆 Go Inter by DTAC | 6GB | 29 usd | 4.83 $/GB | 15 days | Worldwide (70+ countries) |
| GlobaleSIM | 3GB | 9.60 usd | 3.2 $/GB | 14 days | South Africa |
| Airalo CellSA | 2GB | 8.50 usd | 4.25 $/GB | 15 days | South Africa |
| Holafly | 6GB | 44 usd | 7.33 $/GB | 15 days | South Africa |
| Nomad | 5GB | 45 usd | 9 $/GB | 30 days | South Africa |
*Data collected in 2023
Go Inter by DTAC: The best Global eSIM
Great price per GB
Go Inter by DTAC is the best eSIM plan you can buy to travel to South Africa. You can get 6GB of data for 29 usd with 15 days of validity. Using Vodacom's network, you'll receive excellent service in the whole South African territory.
Worldwide coverage
The best feature of DTAC's Go Inter card is its coverage. Offering global coverage, you can use this plan almost anywhere in the world (over 70 countries). This is especially convenient if you're traveling to South Africa since you won't need to worry about roaming expenses if you decide to stay a couple of days in any other country, or if, while getting to South Africa, you end up in any of the covered countries due to delays, cancelations or missed connecting flights.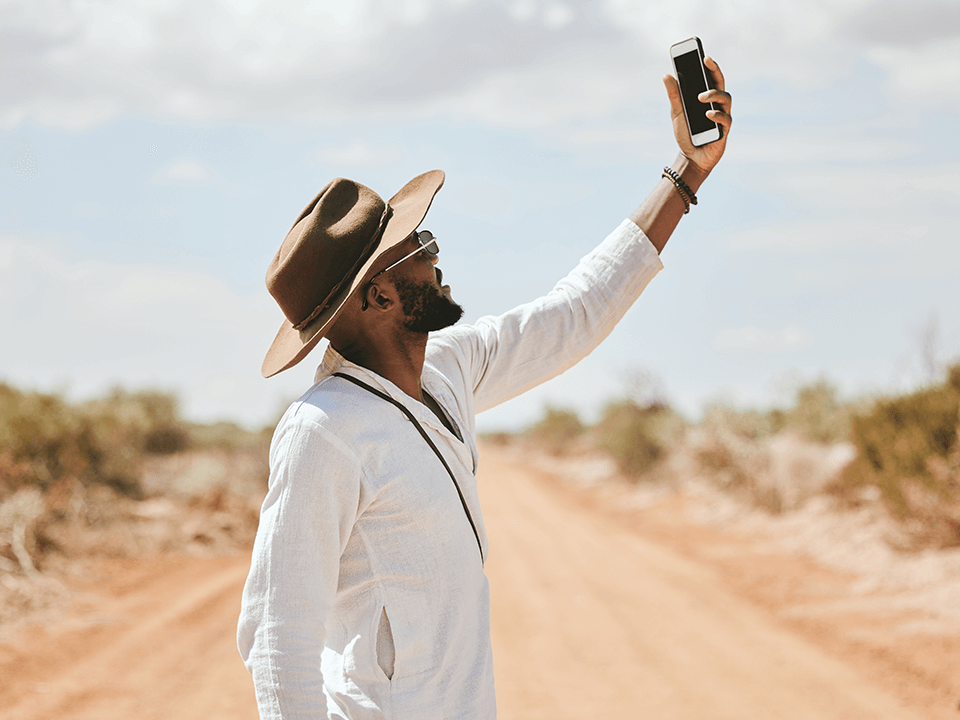 GlobaleSIM
Half the data
GlobaleSIM offers 3GB for 14 days. It is half the data of DTAC's plan for nearly the same period. While its price per GB is actually quite cheap, this plan only offers data coverage in South Africa, which is a big disadvantage against DTAC's GO Inter card.
Budget plan
GlobaleSIM plans are great if you're traveling on a budget, since it offers a small data package for a low price, but you might end up needing to top up your data depending on how much you end up using.
Airalo CellSA
Small data package
Airalo offers its CellSA plans for South Africa. For a small price of 8.50 usd, you'll receive a tiny data package of 2GB for 15 days. Just like GlobaleSIM, you'll have to manage your data usage carefully to be able to take full advantage of this plan.
Limited to South Africa
Another drawback of Airalo's eSIM is that its coverage is limited to South Africa, so you'll only be able to use its data within the South African territory, limiting your travel flexibility.
Holafly
Same data
Holafly offers a 6GB plan (just like Go Inter by DTAC) to use for 15 days. With coverage only in South Africa, it's on all accounts a worst eSIM plan than our first pick. Its positive feature is that, in this case, Holafly (unlike with many of its plans), does offer tethering , and with two different roaming partners, you'll end up having excellent service in South Africa.
Almost twice the price
Holafly's card for South Africa costs 44 usd, almost twice the price of DTAC's Go Inter card (29 usd). When taking this fact and its limited coverage into consideration, this makes it a bad option for those traveling to South Africa.
Nomad
The most expensive GB
Nomad's best offer for travelers to South Africa is a 5GB plan for an excessive price of 45 usd. It results in an abusive price per GB of 9 usd. There's no point in comparing DTAC's card versus this one.
30 days
The only advantage (if you can consider it an advantage) of this eSIM, is that it offers coverage for 30 days, but if you need to stay for 30 days in South Africa (and no other countries), you can get two of DTAC's Go Inter cards for nearly the same price, and you'll end up receiving 12GB which you can even use back home since DTAC provides worldwide coverage.
Should I get worldwide coverage or local coverage for my travel eSIM?
When put in front of the decision of purchasing a local eSIM or a Global eSIM, the only motive that might push you towards a local eSIM is that Global eSIMs are usually a lot more expensive than global ones, since they can be used in other countries in the world.
With Go Inter by DTAC, however, its price stays quite close to local eSIM plans, so the decision isn't that clear.
With global eSIM plans, you won't need to worry about roaming costs with your phone if you travel to other countries, or if you're stuck in another country's airport due to unforeseen causes. A global eSIM is a great choice to travel with the peace of mind of not having to stress about your flight plans for your next holiday.
Is my device compatible with eSIMs?
If you device is an apple mobile phone launched after the iPhone XS and iPhone 11, a Samsung phone later than the 2020 Samsung Galaxy S20, or a Google Pixel 4 (some previous XL models and later phones too), you can use most eSIMs in the market. Other android brands have added eSIMs to their high-end models.
The best way to know for sure if you can install an eSIM in your device is by checking the eSIM compatibility list that most eSIM carriers provide on their website. This is especially important since some carriers are not compatible with all the mobile phones that support eSIMs.
How's the network coverage in South Africa?
Four companies offer service in South Africa: Cell C, MTN, Telkom and Vodacom. Of these companies, Vodacom offers the most consistent experience to its customers, with good coverage, great speeds and a great overall experience.
To check the coverage map of the South African carriers, you can visit this website to know if you'll receive cell service in any region you're visiting.
Get the eSIM for South Africa
FAQ about South Africa eSIM
What's the best international eSIM for South Africa?
The best international eSIM to travel to South Africa is Go Inter by DTAC. For an affordable price of 29 usd, you can access 6GB of data in over 70 countries. With this card, you won't need to worry about your roaming expenses while you're traveling, and you won't need to get a different eSIM for each country you're visiting.
Can I get an eSIM while being in another country?
Yes, since all you need to buy an eSIM is an internet connection, you can buy it anywhere in the world. Simply access the carrier's website and buy it. You'll receive a QR code on your email so you can scan it and have it ready for activation.
Can I use WhatsApp with a travel eSIM?
Yes, you can. Since a travel eSIM won't substitute your home carrier's SIM card, you'll be able to keep your mobile phone number active while traveling abroad, so any account linked to your SIM card number will still be active even if you're using the data allowance on your new travel eSIM.
What are the disadvantages of eSIMs?
The major disadvantage of an eSIM comes associated with the fact that it is a software-based solution and not a hardware one. This means that, unlike physical SIM cards, you won't be able to extract the card from your phone if you need to. To switch the device on which an eSIM has been installed, you'll need to contact the eSIM carrier so they can reset the profile to be able to move it. This process, however, shouldn't take too much time, so don't worry.
Do you need to be in the covered country to activate my eSIM?
With some eSIM plans, it doesn't matter where you are when you're activating your eSIM profile, but since sometimes it can create issues with the process, we always recommend that you activate your travel eSIM within the covered area of service. You can wait until you're at the destination airport to activate it.