And the award for the Best eSIM USA goes to… eSIM USA by T-Mobile. With 4 unique plans to cover all your needs, it provides unlimited domestic voice calls and SMS. While the unlimited plans offer coverage in the US, Mexico and Canada, only one of the prepaid data plans offers regional coverage. With prices ranging from 35 usd to 60 usd, their amount of data and features make it the most interesting eSIM plan you can get to travel to the United States of America in 2023.
If, on the other hand, you're looking for an eSIM that will allow you to visit anywhere in the world, including the US, with an excellent data package for a reasonable price, then Go Inter by DTAC is the best eSIM offer.
In both cases, we've got you covered.
New York, Los Angeles, Hollywood, San Francisco, Hawaii, Florida, Washington, New Orleans, Chicago, Yellowstone, Yosemite, the Grand Canyon… there are thousands of places to visit in the United States of America, and since you're looking to get an eSIM to travel to the US, you've already planned your dreamed trip… so we're not going to spoil it, but what you should really get before you travel to the United States, is the best prepaid eSIM plan for the USA in 2023. Plan ahead and get the eSIM card that best suits your needs. Don't waste your money on roaming costs.
Top 6 prepaid eSIM plans for the USA in 2023
Plan
Data
Price
Price/GB
Coverage
Validity
🏆 eSIM USA T-Mobile
10GB 12GB Unlimited Unlimited Plus
40 usd 35 usd 50 usd 60 usd
4 $/GB
3.5 $/GB
N/A
N/A
US, Mexico, Canada
US
US (Mex. and Can. 5GB)
US (Mex. and Can. 5GB)
30 days 30 days 30 days 30 days
DTAC Go Inter 10 days DTAC Go Inter
6GB 6GB
15 usd 29 usd
2.5 $/GB 4.84 $/GB
Qatar,USA, Asia, Israel, Australia Worldwide
10 days 15 days
Ubigi
200GB
200 usd
1 $/GB
United States
30 days
Nomad
50GB
80 usd
1.60 $/GB
United States
30 days
Airalo Change
20GB
42 usd
2.1 $/GB
United States
30 days
Holafly
Unlimited Unlimited
47 usd 64 usd
N/A N/A
United States (no tethering) United States (no tethering)
15 days 30 days
eSIM USA by T-Mobile: The best eSIM carrier for the US
Unlimited plans
T-Mobile's unlimited eSIM card provides us with the best eSIM offer to travel to the United States of America. For 50 usd you'll get unlimited data in the US, Mexico and Canada with unlimited domestic voice calls and SMS and tethering with a speed of 3G. The Unlimited Plus card (60 usd) also provides high speed tethering up to 10GB and afterwards it gets throttled down to 3G. These are the star eSIM plans from T-Mobile, and all of them with a validity of 30 days.
Limited data plans for different needs
eSIM USA by T-Mobile also has a 12 GB local eSIM for 35 usd with unlimited domestic calls and SMS and a 10GB regional eSIM card for 40 usd, in this case with 5GB of data allowance for Mexico and Canada.
Dtac Go Inter: The best global eSIM
Great prices
DTAC's Go Inter plan is the best global eSIM you can get if you're looking to visit not only the United States of America but several other countries in the world. It offers 2 eSIMs, one with 10 days' validity and another with 15 days. With 6GB of data for 15 and 29 usd, these plans are perfect if you're looking to add more destinations around the world to your trip, since they offer a budget plan with several destinations covered.
Different coverages
In fact, one of these eSIM plans offers worldwide coverage. Go Inter offers 15 days of coverage in most countries of the world, so you can visit any of the 70 countries where it offers service, and for a great price per GB of 4 usd. The Go Inter 10 days card, offers coverage in a bundle of countries like Qatar, Israel, Australia, over 20 countries in Asia and of course, in the United States of America, with, yes, you've guessed it, 10 days of validity.
These cards are the perfect solution for a long trip on which you're planning to visit several countries and cities around the world, including possible stopovers and flight delays in other airports.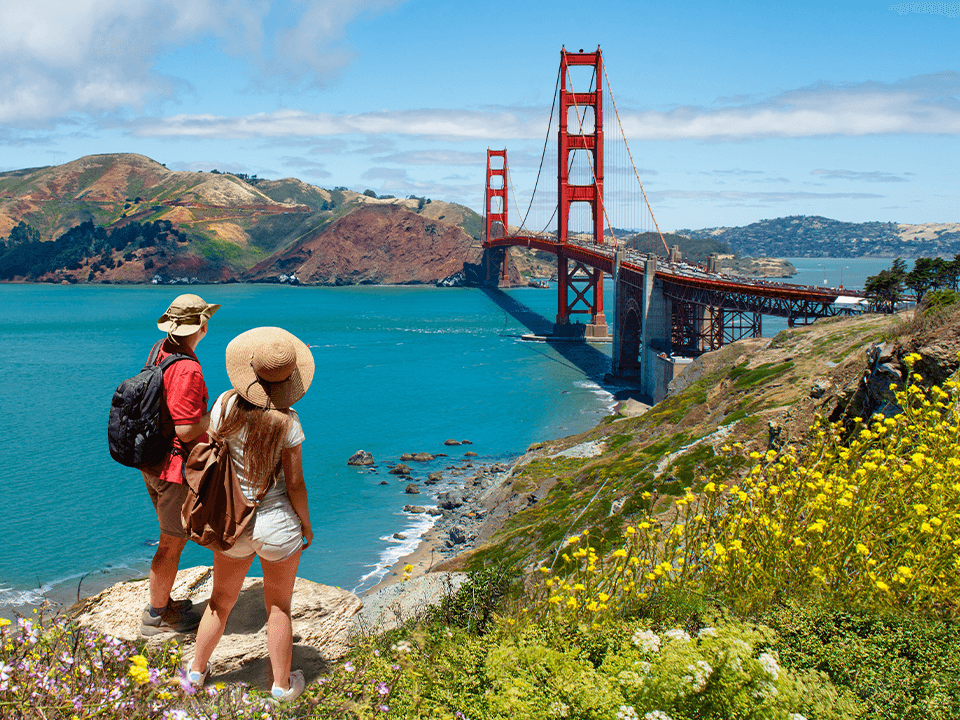 Ubigi
Massive data and price
Ubigi's best eSIM for the USA offers a massive data package of 200GB for a massive price of 200 usd. While the price per GB is really good (1 $/GB), is a huge expense to pay at once, especially considering that it is just a data plan.
Better off with an unlimited plan
With that price, you'll be better off purchasing an unlimited eSIM if you need that much data, and with T-Mobile's eSIMs you'll also receive, for a fraction of the price, voice calls and SMS. It's hard to justify choosing this eSIM over an unlimited one.
Nomad
Large amount of data
Nomad offers a large data package of 50GB for 80 usd. It's a good amount of data, but it only provides data and at a high price.
Limited coverage
In addition, Nomad's eSIM card only offers service in the USA, with no phone number, so it is understandably worse than our first 2 picks.
Airalo Change
Average data allowance
Airalo Change eSIM provides an average amount of data (20GB) with a price of 42 usd. With limited coverage and providing only data, it is also a worse offer than T-Mobile's and DTAC's cards.
Expensive price per GB
Its price per GB is 2.1 $/GB, which is quite expensive for the features it provides. Airalo's eSIM cards offer nothing else than data, and its coverage is only limited to the USA.
Holafly
Expensive unlimited plan
Holafly is the only other eSIM of our list providing unlimited data in the United States of America. For a high price of 64 usd (4 dollars above T-Mobile's price) you'll connect to AT&T or T-Mobile's network for a period of 30 days, and if you're traveling for 15 days (the same validity as DTAC's Go Inter), you'll have to pay 47 usd to use its data ONLY in the USA.
No tethering allowed
The worst part about Holafly's eSIMs is that they don't allow tethering. This means that you'll be stuck using the data you've bought only on the mobile phone on which you've installed your eSIM. You won't be able to share your Wi-FI with anyone else on your trip, not even with your smartwatch or your tablet. It's not a good policy to have with nowadays' remote work trend, since you won't be able to connect your computer to the data on your phone.
Travel eSIM: Local vs Global
If you're buying a prepaid card to travel abroad, you should consider three things before choosing a local eSIM or an eSIM with worldwide coverage: Its price, what do you plan to visit, and the features you'll need for your mobile phone during your trip. Although global eSIMs are usually more expensive than local eSIMs, if you want to visit other countries during your holidays, a Global eSIM is always cheaper than purchasing different eSIMs for each country you're about to visit. With a Global eSIM, you'll also be able to use your mobile phone in case of flight delays, stopovers and cancelations or missed connecting flights.
The features offered by an eSIM should also be a factor in your decision.
With Go Inter by DTAC you'll have all the advantages of a Global eSIM for a great price, but, with T-Mobile's cards, you'll have (at least in three of them) regional coverage, unlimited data (in two of them) and a phone number with unlimited domestic calls.
Instructions on how to buy an eSIM
The best thing about eSIMs is how easy it is to get one, especially to travel abroad. All you need is an internet connection so you can access the eSIM carrier's website. The whole purchase can be done online, and after you've bought it, you'll receive an email with a QR code and a walkthrough to guide you during the activation process. It is THAT simple!
With travel eSIMs, you'll avoid visiting a local store, and dealing with subscription rates, fees and all the paperwork involved in purchasing a traditional physical SIM card.
If you're traveling abroad, you'll be able to have your eSIM ready from the comfort of your home computer or your office.
Can my device use an eSIM?
Unfortunately, only certain devices on the market can use an eSIM. If you add to it the fact that some eSIM carriers only support certain devices, knowing if you can get an eSIM for your mobile phone can become quite a headache. Thankfully, you can check the eSIM compatibility list that most eSIM carriers provide on their websites.
The most typical devices that support eSIMs are Apple mobile phones starting at the iPhone XR or iPhone 11, Samsung mobile phones since the Galaxy S20, Google phones since the Pixel 2XL and some high-end smartphones from other android brands such as Huaweii, Oppo, Rakuten or Xiaomi.
You can also check with your device's manufacturer or your home carrier as an alternative if you're not completely sure, but your main source of information should be the eSIM compatibility list.
How's the network coverage in the USA
Three carriers offer mobile network service in the United States of America: AT&T, T-Mobile and Verizon. Of these three mobile carriers, T-Mobile provides the fastest download and upload speeds, as well as the best availability and coverage experience to its customers.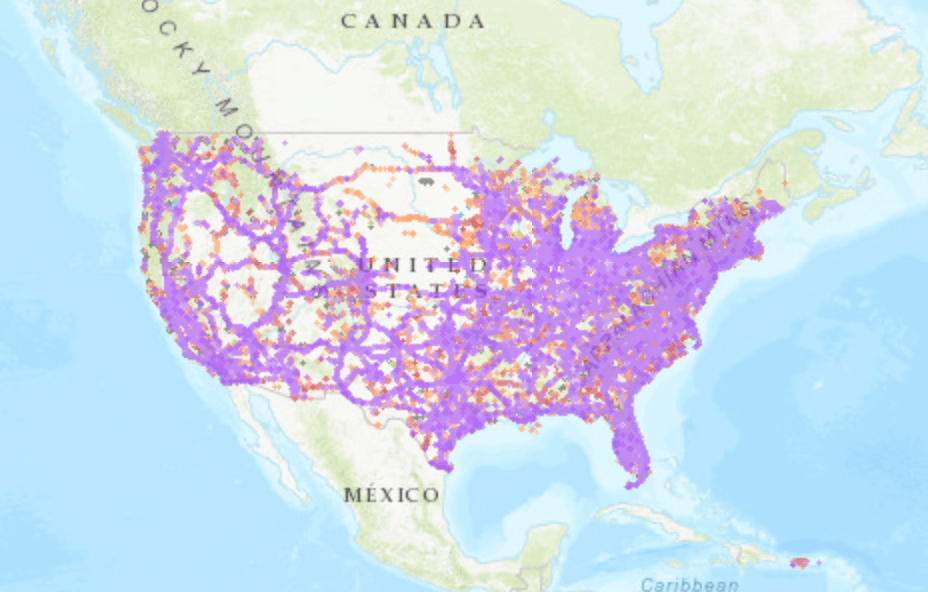 If you need to check the mobile network coverage map of the USA depending on the service provider, you can do it in this link.
FAQ about US eSIM
What's the best eSIM to travel to the USA?
eSIM USA by T-Mobile is our top pick for the best eSIM to travel to the US. With 4 different plans to enjoy either in the USA or in Canada and Mexico, you'll receive excellent coverage and unlimited domestic calls and SMS. You can select an unlimited plan or one of the two prepaid data plans of 10GB or 12GB for prices ranging from 35 usd to 60 usd.
What's the best global eSIM where the US is included?
If you're planning on visiting several countries and want to receive coverage in all of them (United States included) then your best bet is to purchase the Go Inter card by DTAC. With coverage in over 70 countries, you won't need to worry about roaming expenses wherever you are, and for a great price, you'll receive 6GB of data to use for 15 days. You can also get the GO Inter 10 days card if your travel plans are limited to Israel, Qatar, USA, Asia or Australia.
Can I keep my WhatsApp number with an eSIM?
Yes. The fact that eSIMs don't use a physical space in your SIM tray allows them to be used at the same time as a SIM card. You can keep your WhatsApp account active (as well as any account linked to your phone number) while using an eSIM for your data needs.
When should I activate my eSIM for the USA?
You should activate your newly acquired eSIM after you've reached its covered area. If you start your eSIM in a destination where it doesn't provide coverage, you might find issues with the entire process. That's why we recommend that you activate it as soon as you've landed on your destination.